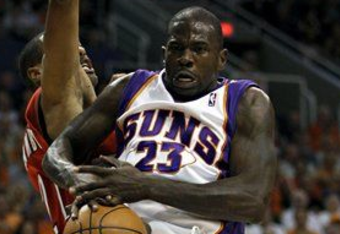 Last night against the Portland Trailblazers, mostly every NBA fan expected the Suns to get the Blazers. Brandon Roy wasn't there, so it seemed easy.
Not so fast there.
The Blazers rolled, surprising Phoenix 105-100. Just what the hell happened here? Did Phoenix seriously just do this? Did they actually lose to a team without their star player? But Portland got them.
But this also brings up something else. Will the Suns do it again? Are they going to pull of the same old bullcrap every single year?
Last season, the Suns didn't even manage to make the playoffs with their 46-36 record. And they even had Shaq that time, but he didn't fit well. It just showed the Suns kept disappointing year after year, playoffs or not.
So what if they made the playoffs? They always lost there.
Sure they, made the playoffs in the 2007-08 season with a 55-27 record, but they lost in the first round! Typical Phoenix.
How about we go back a bit farther?
2006: Won first round, killed Lakers but got beaten in six by the Spurs, who eventually became champions that year. 2004 and 2005, the Suns managed to make it to the Western Conference Finals, but choked.
They haven't made it that far or farther since the 1992-93 season when they made it to the Finals, later losing to Jordan's Bulls.
So it's been awhile. The new century Suns just don't get it. They just can't win in the postseason, no matter how good they do in the regular season. And now it may begin to happen again.
Steve Nash is the fuel of the time and Amare Stoudemire helps out. Robin Lopez helps brings in those boards. The Suns are a working package, but they seem to be delayed and mixed up like the packages with the flights in Europe.
They can't get it together. Like Europe, they got a Volcano in their way. They can't get past it. They can't past the slump, the slope, the monkey on their back, any reference!
The Suns need to get it together. Though it's the first game of the series, they should get it together. I expect something better coming Game Two.
Or else, it's like the same old Suns we always see.
Don't choke!