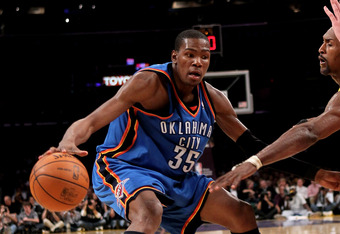 The Lakers exploded in Game One, topping the Thunder 87-79. During Game Two, the Lakers barely got away but they were led by Kobe Bryant and his 39 points.
Now it is time for Game Three, and the Thunder should be worrying right now. Behind 2-0, you never know, Oklahoma City can emerge now. It's time for them to.
The Thunder should be sending a strong message right now to Los Angeles: "We're not giving up. Watch out L.A." I think it is time for the Thunder to show who they really are now. It's time.
It is time for Kevin Durant to turn into Durantula. Time for him to turn into the monster everyone has known him as. It is time for him to run all over Ron Artest, making shot after shot and owning on every possession.
It's time for Russell Westbrook for faking out defenses. Making smart shots, good moves, and slick passes.
It's time for Jeff Green to really attack on the boards, shoot from the perimeter, and make you look like your trousers are falling (okay, I think I should stop right there).
It's time for Thebo Sefalosha to surprise this Lakers time. Stopping Kobe Bryant on the D. Playing tough, hard, and aggressive.
Oklahoma City will be playing at home tonight, and are 27-14 there. It's time to please the crowd and make the Lakers feel very unwelcome. The Thunder have a good chance of winning this one.
Durant will be the key.
Nenad Kristic will have to play some strong defense on Andrew Bynum, who is continuing to be more scarier by the second, each time he palms the ball in his hands in the paint; either going for an easy layup or a terrifying dunk.
Thunder coach Scott Brooks has recently won Coach of the Year for his improvement on OKC. Now he can really show how good of a coach he is if he brings this team back into the series.
"We were improved once he took over as the coach. We still lost some games that were tough but we were learning and we were getting better each day in practice," said Durant, who developed into the NBA's youngest scoring champion this season.
"I knew if we continued to do that and not come in and just say, `Our season's done. Ain't no need to practice. Ain't no need to work hard.' We still came in and worked every day, and he made sure he brought it every day as a coach."
Other players that can be a key in tonight's game can be James Harden, Serge Ibaka, and Eric Maynor.
It's time to show what the Thunder have in them. Can they surprise?
We'll find out tonight, I guess.