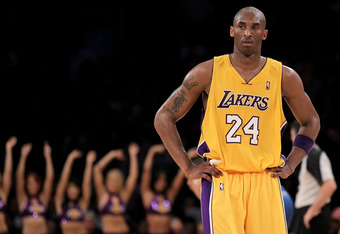 It's been two seasons in a row the Lakers have been dominant in the playoffs. It's been two seasons in a row that the Lakers have made it to the Finals, winning one of them in 2009.
Now Los Angeles will be aiming for their third. Third straight year where the Lakers are one of the favorites in the Western Conference. Could it be the third straight year L.A. will be in the big show?
Hell, it may very well be possible. Many people don't think so and it may seem odd, but hey: they can do it.
Didn't the Buffalo Bills reach the Super Bowl four times in a row (sadly losing them all)? Didn't the Celtics win like ten titles in twelve years back in those days? How can it not be possible for the Lakers?
So what, Kobe is getting old. But it doesn't seem like it, not at all. The Lakers will slip by the Thunder, already leading 2-0 behind Kobe. In Game Two, Kobe scored 39 points. Count that: 39. Doesn't seem like he's 30-year-old to me, does it?
Not old. Not at all. At least, it doesn't seem like it.
Kobe also has his weapons. He has a dunking nightmare in Shannon Brown. A terrifying center in Andrew Bynum, who has been getting better and better each season and is turning himself into an All-Star caliber center.
And then Pau Gasol, another dominant center for L.A. The Lakers also have a defensive specialist in Ron Artest, who is tearing it down on Kevin Durant and continues to no matter what. Ron-Ron is the man so far.
The Lakers may very well be returning to the Finals. I already have them for the Western Conference Finals. Who will they face? The only teams that have a shot for beating L.A. are the Nuggets, Mavericks, and the Spurs.
Can they beat Kobe and Co.? Maybe.
But I guess we'll just have to find out.