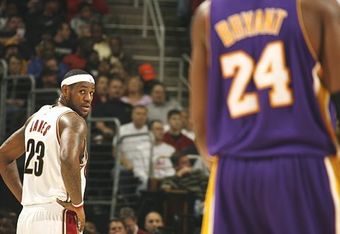 I keep getting sick of this conversation over and over again.
It won't happen this season, that's for sure. You should know by now what I am talking about here.
Lakers-Cavaliers: NBA Finals. Who will come out on top: LeBron James or Kobe Bryant? Oh, just cut it out people.
Yes, yes, I know it will seem like the ultimate matchup but we've been hearing about this for the past two-to-three seasons. Don't you think you should stop? It won't happen this season.
For one, the Cavaliers probably might not even make the playoffs at all. They've been choking lately for the past few years in the playoffs and they may very well face Orlando in the Eastern Conference Finals again, and lose there.
Or it could happen to the Lakers. It may seem weird for Los Angeles to make it to the Finals three times in a row. I don't think it'll happen, but hey, it can be possible.
But they've been pretty darn good this season so I won't be surprised.
However, it just seems so unlikely for a Lakers-Cavaliers matchup. Many expected it last season during the 2009 NBA Playoffs. It seemed like it was destined. Everyone was acting like it will happen for sure.
But it never did.
The Cavs got beaten by the Magic. They got stunned. Here they are as the best in the East and they didn't make it. I was shocked.
That's why I won't be taking the Cavs as serious. Okay, probably I do because I like them there but so do a bunch of other people out there. And there are bunch of people who keep having the stupid fantasies of LeBron James vs. Kobe Bryant in the Finals.
It could happen some other year. But no, definitely not this year.
So cut the talk about it.
It's not gonna happen.
Keep dreaming.
It will happen soon, but just not this year.