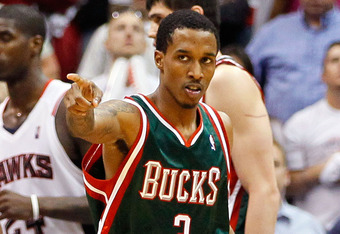 Milwaukee hasn't made it to the playoffs for awhile. This year is different for them. Michael Redd was gone but Brandon Jennings came in and delivered.
He was slick. Smooth. Unstoppable. And he was only a rookie.
Andrew Bogut helped out and Luc Mbah-a-Moute flourished. All is going good. Now in the first round of the playoffs, many expect their season will end there. Whoah, buddy, not so fast there.
The Hawks started off strong here, but now, they are desperate for a win; trailing behind with a 3-2 margin. Tonight, their season can be all over to this Milwaukee team. The Bucks can get these guys in six games.
Surprising, it seems.
But nobody knows that this team is something else. A dark horse. If they win tonight, they'll be heading off to Orlando to face Dwight Howard, Vince Carter, and the rest of the Magic squad.
It may seem like a tough test, but let's worry for the first round for a minute.
All I can say is: "Wow." Really. I didn't expect this team to even make the playoffs. A lot has been going good for this team. They finally swept their rival, the Indiana Pacers, for this season and it's been a long time since we've seen that.
The person who made the difference is obviously Jennings himself.
Milwaukee also has some other nice players on the team with guys like Alexander and Luke Ridinour.
Milwaukee has made a huge impact in the playoffs even when nobody has expected it. To me, this series seems like a boring one. It's not as exciting as the Thunder-Lakers or the Nuggets-Jazz. Even the Mavs-Spurs and Bobcats-Magic for crying out loud.
But Milwaukee is getting the job done, even it's not as exciting as other teams do it.
But they can make a good run here and be one of those surprising teams for this year's playoffs. Bucks are doing good.
First, they need to finish off the Hawks.
Can they do it?