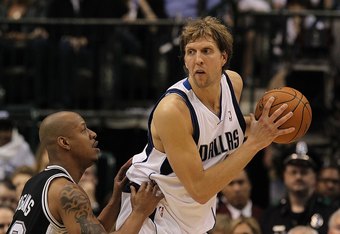 We remember what Dallas Mavericks' owner Mark Cuban did last season during the 2009 NBA Playoffs. After the Nuggets humiliated the Mavs in a critical game, Cuban was furious and eventually went up to Kenyon Martin's mother saying he was a "thug."
There was a heated contest between Martin and Cuban during that time. It seemed Cuban was in for it. But however, the Nuggets ended up winning the series.
But now, Cuban is looking to cause more trouble for his Mavs. It feels that his Mavs will slip by the Spurs. Sure, they're old, but they can still work. Just like the Celtics. But I have had enough of Cuban, and the Mavericks as a whole.
Said Cuban of San Antonio and the rivalry between both teams:
"No, I mean I hate the Spurs. I have a hard time being civil to [Spurs owner] Peter Holt at the board of governors meetings and he has a hard time being civil to me even though we both like each other. It's what it represents. We can both be 0-80 and if those last two games are Spurs-Mavs, it's going to be like a playoff game because we dislike each other that much."
It doesn't seem as harsh as what Cuban did last season, but I still feel the Mavs have this trash-talking sense. I'll just say it right here: The Mavs won't win it all. Hell, they probably won't even get past the first round.
I vote for the Spurs. Sure, they got that nice veteran in Jason Kidd. Sure, they have Caron Butler. Yes, they do have Dirk Nowtizki. Yes, yes, that all sinds nice and all, but seriously!
We've seen a better Mavs team a few years ago as they were No. 1, and look: they lost to the No. 8 seed Warriors in the first round. The Mavs are known for choking. Their great regular season performance doesn't surprise me at all.
Yes, they did beat San Antonio last season. So what? Right now, I feel the Spurs are the better team.
And look at the Finals back about four-to-five years ago against the Heat. They choked, once again. They were leading the seires 2-0 and then the Heat got this click, and eventually won four games in a row to win it all.
The Mavs won't win it all. They don't have it in them. Though it will be a tough, hard-fought battle between both teams, I see Tim Duncan to make a move or two. Tony Parker is finally returning, so expect something from the kid. How about Manu Ginobili? There's a lot of guys that still make impact to this squad.
I say the Spurs in seven. The Mavs aren't ready, once again. I just don't see them. I ain't feelin' them.
What do the Mavs have? Prove me wrong. I mean, even if they do win this series, what makes you think they'll win the Finals? Maybe even make the Finals? Hell, even making the Western Conference Finals!
What can they do?