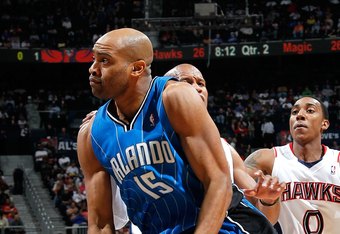 We all know that great Vince Carter 4-10 years ago. Flashy, slash-and-dash, fast, freakish, monster, dunking nightmare, etc. And now, for the first time in his career pretty much, he's that X-Factor.
The veteran. The old guy. He's not as fast, we know. He's not as freakish, not as much as a dunking king as he used to be. But he still has a lot left in the tank.
And he has something to prove. And for the first time in his career, he has a shot at the Finals with a strong team making noise: the Orlando Magic. Carter probably has never had a player like Dwight Howard.
Carter has more weapons around him. And he isn't considered the No. 1 guy anymore, though it doesn't hurt him probably.
Carter needs to prove something: Can he win a championship with a such a competitive squad like this? Can he? I guess we'll have to find out.
From his great days with the Raptors, we remember that Carter. We all remember his great rookie season, his amazing performance at the 2000 Slam Dunk Competition, his eight appearances at the All-Star.
But one thing is missing. We all know what that is.
A ring.
We know he's getting old. He doesn't put up the stats we see back then. But he is still pretty decent, averaging 16.6 PPG, 3.9 RPG, and 3.1 APG.
Carter has a chance. He probably never has one bigger than this. I really don't sense and upset from the Bobcats. The Magic will advance to the second round. Can they return to the Finals?
It's possible. Carter came here as just a "replacement" for Hedo Turkoglu. But if you compare the two now, we all know Vince was the better player. We expected Turkoglu to put up the big numbers since he will be one of the big options.
Way off. Just dead wrong. The Magic have a more experienced squad here, but they are smarter, too. They know what's coming.
No longer will Carter be counted on all the time. No longer will he suffer. No longer will he be one of those guys who were dominant, but had no ring.
This may be Carter's last chance. He will have to earn it.
Let the Vinsanity began.