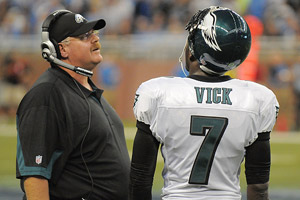 Andy Reid probably saw his first, great glimpse of the unstoppable, flying Michael Vick back in the 2005 NFC Championship game. Vick would lead his underrated Atlanta Falcons to the NFC title game, only to face a solid quarterback in Donovan McNabb, and his company of the brotherly love Philadelphia Eagles.
The next season, however, Vick brought revenge in a 14-10 win at Atlanta. Vick was running here and there, converting first downs not only on his arm, but a lot on his legs. And Vick couldn't be stopped. The defenses were too slow for the very-mobile, athletic quarterback. They couldn't believe their eyes.
Just a season later, Vick would one of the best years of his career, being the first quarterback to rush for over 1,000 yards. However, things would soon go all but downhill for Michael. Yes, of course, the dog fighting charges. And from there, we all know what happened. We all know the story. And now he's back, and with the Eagles.
Just about a week or so, I wrote a column about Vick. This is different.
To start things off, people should finally shut their mouths and forgive the man. If you won't, I don't care. I am among the growing many that will support Vick. I am also a dog-owner myself, a proud owner of a four-year-old, German Shepherd breed dog named Christy. She was born right around the ending of the 2006-07 season, Vick's last year in the NFL before heading to prison.
If you don't forgive Vick, then why do people continue to forgive people like Ben Roethlisberger, Adam "Pacman" Jones, Donte Stallworth, and many more. Some of the things they have done are worse than Vick. And again, I am a dog-owner, but no offense, but Stallworth killing a man is much worse than killing dogs. Although what Vick did was extremely, and entirely gruesome, it's starting to get very overhyped.
I will forgive Vick for his troubles. Along with that, he was in the wrong place at the wrong time doing the wrong thing. Will, "no dip Sherlock" on that part, but it's not like Vick did everything that was said. There were other folks who had a bigger part, but it goes to show you that sometimes you can't always trust your friends, no matter who close you are to them.
The Eagles obviously made a mistake in letting Donovan McNabb go. If you look at it right now, McNabb has so far been doing a lot better. He's been tearing it up with the Washington Redskins. After a sudden-death overtime loss to the Houston Texans, McNabb threw for over 400 yards! The Redskins came close, but McNabb excelled.
Meanwhile, Andy Reid is looking at Kevin Kolb. Kolb, so far, has been overrated. In fact, the kid is garbage. I don't see how anyone can be dumb enough to think he could still be starting. I understand Reid's point on still starting Kolb after the Eagles' close Week One loss. But there was no way he would still keep Vick on the bench after excelling in Week Two, which was a win over the Detroit Lions.
Vick now has become the full-time starting quarterback for the Philadelphia Eagles. His first game, which was a 27-20 comeback loss to the Green Bay Packers, Vick threw for 175 yards along with a 108 passer rating. He would also have 103 yards on the ground. Against the Lions, he passed for 284 yards and two touchdowns, showing off his passing skills.
Vick has obviously made a comeback, and a very very big one. One of my partners at footbasket.com, JR, made a great video about Vick last year. JR is seen on NBC, and is a popular sports icon on YouTube.com. His show, JR Sport Brief, has teamed up with FootBasket. But back to my point. JR made a video about Vick coming back to the NFL. He talked about him not starting but he will do his little things here and there. And maybe a year later, he can explore at starting again.
Well now the time has come. After doing his little things her and there, Vick has gotten a second chance to prove himself. And so far, the guy hasn't disappointed the fans. Vick can still run the ball. What people are saying that "it is a new generation of football and defenses aren't scared of Vick's rushing ability," is just bull. Vick still scares defenses with his legs, enough said.
And his passing, well, I am very impressed! Vick has showed the passing skills people have been waiting to see. Plus, N0. Seven finally has weapons. He has guys like LeSean McCoy, Jeremy Maclin, Jason Avant, DeSean Jackson, and more. With Vick, the Eagles can succeed. Reid made the right decision in starting him.
"When someone is playing at the level Michael Vick is playing, you have to give him an opportunity," Reid said.
Meanwhile, Kevin Kolb could get traded. According to the Associated Press, numerous teams have called the Eagles on a possible trade. Kolb has been out for the last six quarters of playing time due to his big hit, as he got laid out by A.J. Hawk. This led to a concussion. And boom, Vick comes in, and explodes on offense. From there, you know how the whole story goes.
"We have had calls," the team official for the Eagles said on Wednesday.
Reid was asked if Kolb could get traded by the deadline, which is on October 19th.
"Listen, I can't predict anything down that far, nobody in this league can do that," Reid replied.
Reid should be proud of the decision he has made. And this could just be like starting all over again. A new quarterback, a new team, a new dynsasty. The Eagles can still be great. And with Vick, the possibilities are rising more and more each week he plays. And Reid should know that. Reid can build a great quarterback out of Vick than he already his, just like he did to Donovan McNabb.
They could build another great quarterback-coach duo. The Eagles have found the quarterback they have been looking for since McNabb left. Super Five is gone. Welcome to Super Seven! Reid will definitely not regret this decision. I have the Eagles winning or making the playoffs in the Wild Card for the NFC East division.
Vick will be the key. And with Vick for hopefully these next few years, the Eagles can go back to their old, great winning ways.
Michael Vick could easily be the next best thing to Andy Reid since Donovan McNabb.