Harsh, is one word to describe the suspension of wide receiver A.J. Green for selling a jersey that he had worn in a bowl game for $1,000 to someone who qualified as an agent. Since, Green has already sat out a game this season he has three more games on the suspension.
An appeal is likely according to Yahoo Sports' article on the situation, but even then it could take a couple of weeks before the appeal is heard. Since Green would be sitting out anyway there really isn't much of a reason for Georgia to appeal the suspension.
What's even more interesting is that in the article the University of Alabama defensive end Marcell Dareus was also punished by the NCAA for accepting $2,000 in improper benefits, but was Dareus's penalty as harsh as Green's? No.
Dareus with his improper benefits doubled what Green made off his jersey, but the NCAA only ruled him out for two games!
The one reason why Dareus's punishment may have been lighter is that Green's is because one is a much more heralded player. When on the field Green is one of the best wide receivers in the country, so this was another example for the NCAA in trying to teach an athlete a lesson.
Last year it was Dez Bryant who was caught lying to the NCAA and the sad part was that Bryant hadn't done anything wrong. It was Bryant's belief that meeting with Deion Sanders who is not an agent would be looked at unfavorably by the NCAA and so he panicked and was not truthful with the NCAA about his meeting with Sanders.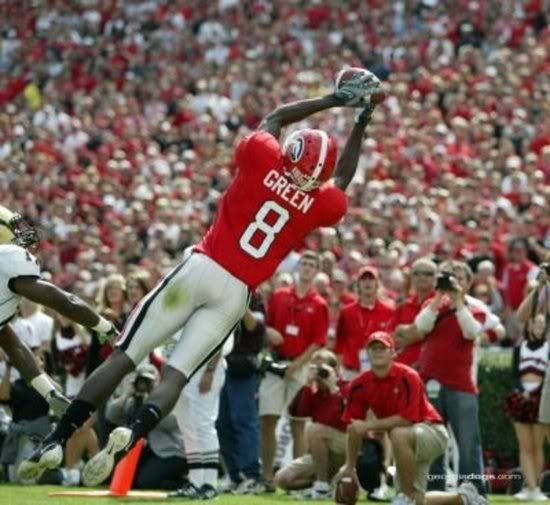 Now this year it is Green. The problem is though is the consistency with the punishment if Green's punishment is four games why isn't Dareus's eight games? Dareus received twice as much as Green did with his improper benefits?
Another problem that is seen is what exactly is an agent according to the NCAA? When looking for the definition of an agent on the NCAA site there's no exact wording for what qualifies as an agent. In this case just because the person who bought the jersey fits the definition of the NCAA as to what an agent is, doesn't necessarily mean the person was an agent.
There's a big difference from fitting the definition of an agent than being an actual agent. Even if Green sold a jersey to an agent the question becomes so what? It was Green's jersey to begin with and he should be able to sell it to anyone he sees fit.
Green has said "I very much regret all that has taken place and the distraction that's been caused.I've learned a valuable lesson and hope others can learn from my mistake. I can only focus my attention now on practicing and looking ahead to getting back with my teammates as quickly as possible."
The only issue that Green could have faced with selling the jersey to an agent is if there was an agreement for the agent to resale the jersey for a higher amount and then gives that money to Green. Much like Dareus who received the $2,000 in improper benefits.
If Green did that then there should be a punishment for his action, but for selling a jersey for what may or may have not been an agent is inexcusable by the NCAA. Green's suspension is just another example of the NCAA wielding too much power.
If anything Green's penalty should have been a two-game suspension while Dareus should have gotten the four-game suspension.
The biggest issue now is with the NCAA itself and how it hands down the punishments to players and until that is resolved there's going to be issues like this one. Green gets a stiff punishment for something that wasn't a serious violation and yet another player receives improper benefits which is a big deal and gets a light punishment.
Until the NCAA can come up with a better way to hand out these punishments like Green's and Bryant's coaches and players aren't going to be too happy with the process. Green's and Bryant's cases also prove that the appeal process in the NCAA needs to be changed and that if a suspension is being appealed the player should be able to play until the punishment is official.