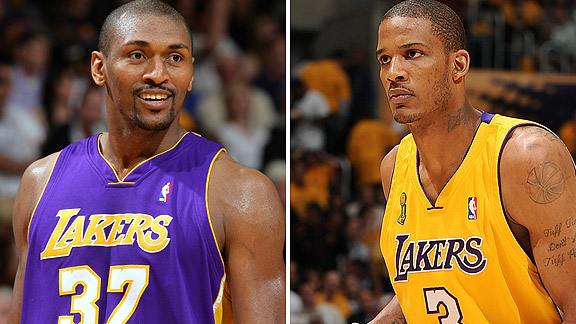 It felt more of an trade than separate signings during the off-season. The Los Angeles Lakers let go of their key to an NBA Championship in Trevor Ariza. But the L.A. filled the hole at that small forward spot when they signed Houston Rockets power forward Ron Artest. Artest was good enough to be their SF and they were also lucky enough to keep Lamar Odom as well. Ariza was in Artest's previous team with the Rockets.
Houston's 2009-10 season later turned into a disappointment. Yao Ming was the big key, as he was out for the whole year. Then Tracy McGrady was traded, but the Rockets got Sacramento Kings' Kevin Martin out of it. But it wasn't enough and Houston would later turn into a team that is now looking forward to an off-season and the NBA Draft late in June. Meanwhile, the Los Angeles Lakers finished as the best team in the Western Conference and are now looking at revenge at the Boston Celtics in a re-match from the 2008 NBA Finals.
Many expected before the season that Trevor Ariza would have the better end of the deal with a five-year contract. Along with that, Ariza was in his prime at 29 years of age and was coming off an amazing performance in the 2009 NBA Playoffs. Artest would seem like "that guy," even though he had a five-year deal as well. The thing was, Artest looked like he was past his prime as he would most probably play as a role player with his age of 34.
The Lakers looked like they had a bad deal coming for them. They never built their roster when they were aging with the Shaquille O'Neal-Kobe Bryant era. Now the Lakers are with a new team with as Kobe Bryant is acting nothing like people are saying that he is "past his prime." Pau Gasol is in his prime and is just doing amazing right now. But the Lakers pulled the trigger on the AK, taking in Artest. But it didn't seem right. Artest was aging. And it took the Lakers six years to win a title again because they got younger. Now they were aging again and the 2009-10 season may not be what it was in the 2008-09 season.
But the Lakers got the better end of the deal here. First of all, Trevor Ariza should be considered a bit overrated if you ask me. He shot over 47 percent with his three-pointers during the post-season in the Lakers' title run. But, here is the thing: in his whole career, Ariza was nearly 30 percent from shooting behind-the-arc. And with that, he shot 33.4 percent for this year with the Houston Rockets from behind the three-point line.
Another reason the Lakers got the better end of the deal because players simply are going to play worse when they land in Houston. Ron Artest may not have a polished season, but Ariza was no where near polished. It was worse than smelling a wet dog. His true shooting percentage was a downright horrible 48.8 percent. Along with that, the so-called "superstar" averaged 14.9 points per game. Artest's true shooting percentage was 51.1 percent and averaged 17.1 points per game, also acting as if he were a power forward most of the year while Ariza was a small forward. Big difference there.
Though Artest's number weren't that good from last year, he helped spread the floor and make other players better actually. Many people complained with Artest in the triangle offense. But it wasn't that bad and Phil Jackson tried to defend him as much as possible. So what, his player efficiency rating was worse than Trevor Ariza's; but if you have been living under a rock, Artest is poor on shooting with his two-pointers, which is about 45 percent. But he also didn't shoot as much, too.
But Artest showed during the Western Conference Finals what he really means to the team and why the Lakers picked him and should pick him over Ariza every single time and moment. Game Five was his best performance of the series. Artest had 25 points in that game, and 17 in the first-half. Along with that, he made a spectacular game-winning shot right at the buzzer. Then in Game Six, when the Lakers (with, of course, the help of Mr. Kobe Bryant) eliminated the Phoenix Suns 111-103, Artest had 25 points once again. Artest helped big in that series and Kobe Bryant also had his best statistics ever in a playoff series; averaging 33.7 points per game, 8.3 assists per game, and 7.2 rebounds per game.
The Lakers must feel lucky not playing the Denver Nuggets in the playoffs, or facing the Cleveland Cavaliers in the playoffs. They will be going against those tough small forwards like Carmelo Anthony and LeBron James. But there's something worse than that when they face the Boston Celtics in the NBA Finals. They will face a small forward that destroyed them in the 2008 NBA Finals: Paul Pierce. Pierce smothered on defense, guarding Kobe Bryant at times. But his offensive game was very very productive; averaging 21.8 points per game and 6.3 assists per game in a six-games series-win. But Pierce was going against guys like Luke Walton, Vladimir Radmanovic, and sometimes Kobe Bryant. Now he will face a defensive-stopper in Ron Artest. Ariza wasn't very productive in his 35 minutes of play during the 2008 NBA Finals (according to John Hollinger, the games that he was in were the Game Two and Game Six blowouts). But now the Lakers have a so-called upgrade and a much better player, which was explained above: Artest. Paul Pierce did not do so good against Artest this year; averaging only 13 points per game and 2.5 assists per game. Artest is different, too. With the Indiana Pacers, Artest pantsed him, which gave me the name for my NBA podcast at PantsingPaulPierce.com. But nevermind that, Artest is ready.
Now as we look back, we'll see who got the better end of the deal: the Houston Rockets in Trevor Ariza or the Los Angeles Lakers in Ron Artest. I guess you'll have to decide. But no worries, if you don't want to, you already found it while reading this. Enjoy the NBA Playoffs. I expect a great performance from Artest, as the Lakers will win this in six or seven games. But as we look back at this, the Lakers have the last laugh.