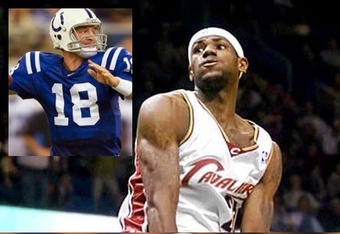 A lot of hype has been going around LeBron James lately. Already, they are talking about the future of the New York Knicks, New Jersey Nets, Miami Heat, Chicago Bulls, and the Los Angeles Clippers because they will land superstar small forward LeBron James.
Whoa, hold on there buckaroo. How do we know for sure that James will be leaving?
Yeah yeah, the Cleveland Cavaliers have marked their second straight year where they posted the league-best record but choke in the playoffs. So what?
This often brings me back to the situation in the National Football League: The Indianapolis Colts of the 2000's. They kept winning and winning, but couldn't bring it on in the big show. That's when people often compared Peyton Manning as the next Dan Marino. But Manning had more skill and a higher football IQ and a type of great quarterback we haven't seen for awhile. He was so dominant in the regular season, but he couldn't hold it through to the post-season. He would often times choke to Tom Brady and the New England Patriots.
Which is why I compare LeBron James to the Indianapolis Colts' quarterback. Let's go year-by-year with these guys.
In 1998, Peyton Manning was the first overall pick out of Tennessee. He was drafted by the worst team in league: The Indianapolis Colts. It was a debate between Ryan Leaf and him. As we look back, Manning was the superstar and Leaf was the biggest bust of the decade. The Colts didn't finish well in 1998, posting a 3-13 record, but it marked a bright future for the Colts and their new, young quarterback.
In 2003, LeBron James was looking to be the NBA phenom. He was something the NBA has never seen. Coming out of Akron, Ohio, James didn't even go to college. He was a number one pick from high school. The Cleveland Cavaliers knew they had a star coming with James. They were better off with James than Darko Milicic. When we look back, James is the future of the NBA and Milicic is the biggest bust of the decade like NFL's Ryan Leaf. James would play great in his rookie season, but the Cavs weren't in playoff contention, however, posting a 35-47 record.
Both, however, would continue to improve as both of their years went by. Both had rivalries, too. Peyton Manning had his with Tom Brady. Brady always had been winning the battles for six straight seasons, and getting three Super Bowls out of it while Manning got none. But Manning had his share of many AFC Championship game appearances. LeBron had bit of a one with Kobe Bryant. Bryant would take the charge, though, going to three Finals appearances. One a win, one a loss, and another that is undetermined. James only went to one, but got smoked by the San Antonio Spurs.
As the years went on, Manning's 2004 season turned out to be one of the bests of his career. After coming off an MVP season in 2003, he had a bigger MVP season that year, breaking Dan Marino's record of 48 touchdowns in a season. Manning had 49 as the Colts posted a 12-4 record. However, they lost to Tom Brady and the New England Patriots 20-3 in the Divisional Playoff round. 2005 rolled by for Manning, posting great numbers as the Colts went 14-2. But their streak ended by the Pittsburgh Steelers in the divisional round.
The same thing was happening to LeBron James. After making it to the Finals in the 2006 NBA season, 2007 came by and the Cavaliers were doing great. But it all stopped when the Cavs got downed by the Boston Celtics in the Eastern Conference Playoffs. Then 2008-09 and 2009-10 season came. James won MVP and the Cavs were unstoppable in the regular season, like the King himself. But they choked in the playoffs, losing to the Celtics this year and the Magic last year.
Before Manning won his Super Bowl, it was all about statistics. He won a lot of games in the regular season and put up a lot of great numbers. As for the playoffs, before 2006, it just didn't work out. He was a choke artist. He had MVP's, fastest to reach 30,000 yards and all of that, but couldn't get the big one.
Same for LeBron. He had the stats, MVP's, one of the fastest to reach 10,000 points and all of that, but he was a choke artist when it came to the playoffs.
Then 2006 came. The Colts had a terrible defense. It was a struggle. Nobody believed the Colts could do it. But they did. They stopped their rivals in the AFC Championship game versus the New England Patriots and topped it off with a championship win over the Chicago Bears for Manning's first ring. Now when you look at Manning, he is considered the greatest quarterback ever, already. I wouldn't say so. But many consider him better than Brady, now.
Why? Manning never had character issues. Many quarterbacks had character issues. Tom Brady is known a stuck-up jerk off the field. Dan Marino had problems before the NFL along with many other quarterbacks. Brett Favre would never make up his mind and was annoying to some people. But Manning? He never had any character issues and was never selfish. Never. He was an honest man earning his pay.
Along with that, some people say Brady isn't better than Manning is because he whined a lot. Especially during last year's NFL season when he was coming off the year where Bernard Pollard blew out his knee (in which many people thank him for). Also, people never took Brady's 2007 season that big because of all the Spygate troubles. That is why people think Manning is better, too. He earned his ring more and turned receivers who come off a 40 receptions-700 yard season into a 80 reception-1,100 yard season.
It took number 18 nine seasons to win a Super Bowl. And you know what? He never gave up. He never gave up to get that ring. He tried and tried. Every year. People said he choked and he sucked, but he proved them wrong and got the monkey off his back. Now with looking to have the best stats ever for a quarterback (seriously, Brett Favre thinks Manning will beat all of his records and it is possible, easily) and with a couple more rings at hand, Manning can be known as the best quarterback right now and soon to be the best ever. True. Ask anybody.
And that goes the same for LeBron James. And that is why I think James will stay in Cleveland. He will look for inspiration. Manning is a big one. Manning never asked to be traded or anything, because he knows he has the tools to win. James has the tools. Hell, he does. True that. James made it to the NBA Finals with a squad that wasn't as good as he had in 2008 or 2009. Check it.
The Cavaliers have tools bring in guys James wants. The Cavaliers are able to trade Mo Williams for Michael Beasley. And it is possible for them making that deal come true. They are building with a new head coach. Manning was able to fit into it when the Colts made it to the Super Bowl with Jim Caldwell. There's also a possibility that the Cavs can actually clear up cap space and bring in a guy like Chris Bosh or Amare Stoudemire. Maybe even Carlos Boozer.
Cleveland needs a sports hero. And James is the only one. Indiana's last sports hero was Reggie Miller. It was just a basketball place. Now football is stepping in because Peyton Manning made the impossible happen for the Colts. He made the "Dolts" go away. The city of Cleveland sports has a curse. And we all know James has the keys to break that curse.
James knows he wants to stay in Cleveland. He was born an Ohioan. And he wants to stay one. He bleeds Ohio and he can't leave the Cavaliers. He will be leaving his hometown. Because of him, the arena to watch the Cavs is always packed. Same goes for the Colts' with the RCA Dome and the Lucas Oil Stadium. James can bring a title to not only the Cavs, but to the city of Cleveland. And if James does bring home a title, he will be the icon of everything Cleveland. Not a sports icon, but a bigger national icon. The icon of Ohio. The icon of the NBA. And I can bet you when Cleveland wins the NBA Finals, it will be a thousand times more crazier than what happened to New Orleans when the Saints won the Super Bowl. Cleveland will be packed because a sports team finally won a championship.
And if James completes that, people can often consider him as a better player than Kobe. There are rumors James signing a three-year-deal with the Cavs and if he doesn't win the NBA Finals in those three years, he will go on to play for the Brooklyn Nets. And that's all the time LeBron needs to win a championship in Cleveland.
Like Manning, James has great character. The great Michael Jordan had gambling problems and cheated on his wife. But it wasn't all that bad. He will still be considered the greatest ever. And Kobe Bryant also had issues. He was selfish a lot of times, which brought him into trade rumors of going to the Knicks. And I don't want to go into any further detail, because the rest is history with the rape accusations and all of that. Nothing has ever gone bad to James. The only bad thing was when some YouTuber tried to claim that James was a believer of Satan.
The Cavaliers also have the most money to give James. But I don't think James will accept the max deal. I think he will think about the Cavs first. So many Clevelanders are begging for number 23 to stay. Not as many other teams are begging more than Cleveland and the whole state of Ohio. They may seem smaller than all of them, but I think James can create something with himself. All the other teams have greats in their franchise. The Cavs never have than James.
The Cavs can bring what James wants this off-season. Don't be surprised seeing a guy like Joe Johnson, Carlos Boozer, Chris Bosh, or Amare Stoudemire coming to Cleveland.
I know James will get his ring in the next three years. It took James a shorter time than Manning to reach his first championship appearance. It took Manning nine seasons. James? Only five. Entering his eighth season, James can bring home a title to Cleveland. He has three more years, maybe even more, to bring home a title to Cleveland. Then he can move on.
Did Michael Jordan ever quit with the Bulls? Did Dwayne Wade ever quit with the Heat? Then what makes you think James will quit with the Cavaliers? LeBron should look at Peyton Manning for guidance. Barack Obama is even pleading for James to stay. It would be better. Much better.
I could go on and on. But LeBron, if I were you, do this. Take the thee-year-deal. The Cavs will do whatever you want. Trust me. The state of Ohio doesn't want you to leave. The Cavs will get a major superstar this free agency. I can see it. Or at least in a sign-and-trade. Trust me LeBron. This could be the best three years of your life and your best years are waiting. And they are in those next three-to-five years. You haven't entered your prime.
James will win a title in the next three years. And once he does, it's all in the books. It will be just like Manning. He will probably pass Kobe Bryant, maybe pass Jordan. Okay, not Jordan, but he could be considered the second or third best player once he retires.
Do the right thing LeBron. Don't quit yet. Look at Peyton. Look at what you can do with Cleveland. Bringing a title to Cleveland will be much bigger than bringing a title to a team like the Knicks or the Clippers. And if you bring home a trophy for Cleveland, you'll know exactly what I mean.
Don't quit.